Our Story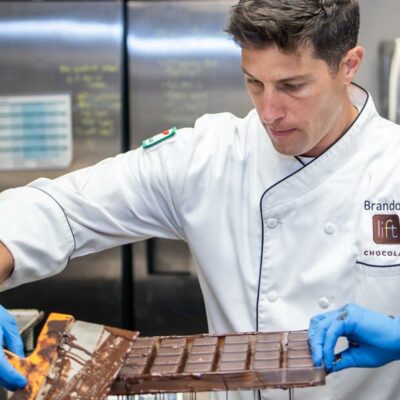 Lift prides itself on creativity and generosity. We present chocolate products that are unlike anything else on the market, like our Splitz bars and Chocolate Covered Strawberries. We donate regularly to organizations supporting veterans and their families, schools, animal rescues, and hospitals in underprivileged countries.
Chocolate is special, and affects people with joy in a way that no other food does. Further, it has a remarkable story. Over the course of its history, chocolate began as a frothy drink (and possibly an alcoholic beverage) predating the Mayan and Aztec empires. In Central America, the beans were used as currency. Chocolate made its way to Europe with Columbus, and eventually became popular at court and in drinking houses. Chocolate has only been consumed in solid form (bars) for less than 200 years.
Lift Chocolate takes its name from Brandon Busch's background as a CH-53 Heavy 'Lift' helicopter pilot in the United States Marine Corps.  During downtime on deployments to Iraq and Afghanistan, Brandon read every culinary and pastry textbook he could get his hands on.  Following his active-duty time, Brandon attended pastry school in his home state of Colorado and fell in love with chocolate.  He began the enterprise in 2015 out of his home kitchen with a small tempering machine and a handful of molds.  Then, in 2017, Lift purchased Concertos in Chocolate, a long time Boulder business founded by Chocolate Maestro Chris Widlar and moved into it's current space.  Lift expanded aggressively, recently moving into a nation-wide market.  Lieutenant Colonel Busch (call-sign "Candy Man) still serves in the Marine Corps Reserve as a Forward Air Controller, Gold Wing Parachutist, and planner in an Operational Level Fires Cell.
Lift Chocolate is differentiated with our one-of-a-kind offerings, like our Splitz Bars and unique holiday products. Further, we take pride in our 'military to chocolate' story.
Lift Chocolate is an affordable luxury. We deliver delicious, totally unique items at competitive prices and ensure the utmost quality. Our chocolate will give you a "lift!"